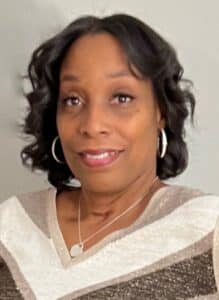 Hello, my name is Sabrina Washington (She/Her).  I feel honored that you have chosen me to work with you.  Please allow me to tell you a bit about myself.  I am a Licensed Professional Counselor (LPC) with National Certified Counselor (NCC) distinction.  I completed my Bachelor of Arts degree (B.A.) in Applied Psychology from The University of Illinois at Chicago in 1992. I went on to earn two (2) Master's degrees – one in Applied Psychology from the University of Phoenix in 2009 and the second in Clinical Mental Health Counseling from Walden University in 2022.  I also completed a Doctoral Degree in Health Administration (D.H.A.) from the University of Phoenix in 2018.
I have over fifteen (15) years of experience in the mental health industry working with individuals and families in various capacities including outpatient private practice, community mental health services, and housing supportive services focused on the most vulnerable populations within the City of Chicago.  Over the years, I have gained experience working within Managed Care Organizations (MCOs) providing managed long-term support services for the elderly and persons with disabilities.  I have provided behavioral healthcare services across the lifespan and work on a variety of issues including anxiety, depression, obsessive-compulsive disorder, bipolar disorder, immigration and acculturation issues, LGBTQIA+ and other marginalized communities, burnout, job stress, trauma, substance abuse, attention-deficit hyperactivity disorder (ADHD) in adults, family problems, relationship trouble, and self-esteem / women's issues.
I believe that dealing with stressful life situations can become tough and overwhelming. But, I also believe that each client I work with possesses the ability – with professional guidance – to unlock their own potential and solve the problems that are holding them back from a more fulfilling life.  My treatment approach is eclectic and tailored to your unique needs.  I utilize techniques borrowed from person-centered, solution-focused, cognitive behavioral therapy (CBT),and motivational interviewing.
I provide teletherapy services for Home Psych Services, P.C. and Generations Behavioral Healthcare, P.C. using secure video teleconferencing for the comfort, convenience, added privacy, and safety of my clients.
I reside in the south suburban Chicago with my husband of 20 years and we have raised three beautiful young women. I love spending time with my family and traveling. I believe that it is vital to make time for self-care.  I am passionate about working with people and being of service to others.  I believe that showing compassion is a necessary component of building rapport. I look forward to working with you and helping you along your wellness journey!