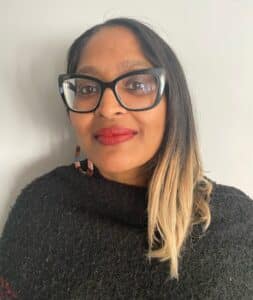 Greetings! My name is Reena Hilton and I am delighted that you found me here!  Please allow me to tell you just a bit about myself.  I am a Licensed Social Worker (LSW) in the state of Illinois. I received my Bachelor of Science in Organizational Leadership degree (B.A.) in 2012 at Dominican University in River Forest, IL.  I went on to pursue and received my Master of Social Work degree (M.S.W.) also from Dominican University in 2018.
I have been working in the social service field for over sixteen years and had many opportunities to work with different populations. I started my journey and career working with youth that are in the foster care system. I then went on to work with youth and young women in a safe house that have been sexually exploited. Once I became I social worker, I had the ability to serve individuals and communities more as an advocate. I worked with high risk and crisis intervention programs for communities, medical social work in hospice care, nursing homes, and renal dialysis to currently working as an individual and family therapist.
I consider myself well-rounded in working with a variety of conditions in both children and adults including anxiety, depression, grief and loss, obsessive-compulsive disorder, bipolar disorder, immigration and acculturation issues, LGBTQIA+ and working with other marginalized communities, sexual abuse and exploitation, sex trafficking, suicide prevention / intervention, burnout, job stress, trauma, substance abuse, attention-deficit hyperactivity disorder (ADHD) in children and adults, family problems, relationship trouble, and self-esteem / women's issues.  Some of the approaches I use in therapy include holistic approaches such as mind and body interventions, cognitive behavioral therapy, motivational interviewing, as well as art-based interventions.
I provide teletherapy services for Home Psych Services, P.C. and Generations Behavioral Healthcare, P.C. using secure video teleconferencing for the comfort, convenience, added privacy, and safety of my clients.
I am also an artist and love to look at life through many different lenses. In my free time, I enjoy creating art, cooking homemade meals, watching psychological thrillers, and spending time my family.