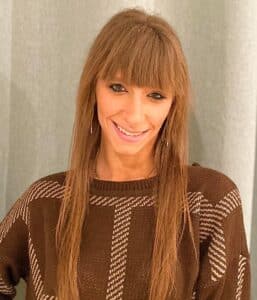 Hello, my name is Stephanie and I am delighted that you found me.  Let me tell you a bit about myself.  I am a Licensed Professional Counselor (LPC) in Illinois, a Nationally Certified Counselor (NCC), and I am also certified as an intuitive eating disorder therapist (EDIT).  I earned my Bachelor of Arts Degree (B.A.) in Justice Studies (a combination of criminal justice mixed with law and ethics) from Northeastern Illinois University, in Chicago, in 2017, and my Masters of Arts Degree (M.A.) in Clinical Mental Health Counseling with a Certification in Substance Abuse Counseling from Adler University in Chicago, in 2021.
I have a passion for helping others and consider myself to be a lifelong learner.  Prior to becoming a therapist, I was a medic working on an ambulance in Chicago for six dedicated years.  My professional experience as a counselor has taken me into many different settings where I have worked with many different clients.  I have served as a behavioral health specialist in hospital and residential treatment centers, as a substance abuse counselor working in intensive outpatient programs, and as a psychotherapist employed in both not-for-profit and for-profit counseling centers.
My ideal client is someone who is willing to come to sessions and put in the hard work that therapy requires. My ideal client's issues and needs would stem from something personal or even an external circumstance from outside of their lives. What matters here is having the courage and how my clients decide to deal with those issues and needs, because life can throw curveballs.  When clients get thrown these curve balls it's important to have goals, and I believe it's important to acknowledge those issues, needs, and goals in a holistic way (by treating the body, mind, and spirit).  As a therapist, I believe it's important to recognize the courage it takes to come to therapy and challenge oneself.  I specialize in evaluating and treating eating disorders and body image issues but have also worked with clients suffering from anxiety, depression, adjustment issues, unresolved grief, bipolar disorder, trauma and PTSD, substance use disorders, domestic violence, relationship problems, troubled teens and poor academic motivation, and LGTBQ+ issues.
I work through a person-centered lens and often integrate other types of therapy that I am skilled in when working with clients such as CBT, DBT, trauma-focused therapy, and narrative therapy to help clients with their specific needs and goals.  I work with individuals, teens and adolescents, and families where I hope to bring a sense of compassion, kindness, trust, and empathy.  I provide teletherapy services for Generations Behavioral Healthcare, P.C. and Home Psych Services, P.C. using secure video teleconferencing technology for the comfort, convenience, added privacy, and safety of my clients.
I live in the Chicagoland area and love spending time with family and friends.  When I am not counseling clients, I love to watch interesting documentaries or fun movies. I also train in Brazilian Jiu Jitsu (BJJ), a martial art, at my local academy in my spare time.