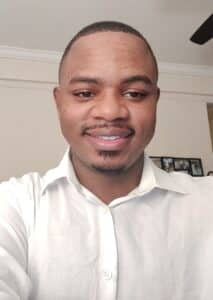 Hello!  I am delighted to meet you and tell you about myself.  My name is Mario Lu'ckett (pronounced, "Luquette") he / him / his.  I am a Licensed Professional Counselor (LPC) in the State of Illinois.  I completed my Bachelor of Science degree (B.S.) in Psychology and Biological Sciences from DePaul University in Chicago in 2015.  I went on to earn my Masters of Education degree (M.Ed.) in Clinical Mental Health Counseling from DePaul University in 2022 and my Masters of Business Administration degree (M.B.A.) in Healthcare Business Administration from the University of Arizona in 2023.  I am presently working toward my Doctor of Philosophy degree (Ph.D.) in Social Policy and Behavioral Health Administration from the National University and expect to graduate in 2026.
My professional experience as a behavioral healthcare professional has been varied and well-rounded.  I have worked in skilled nursing facility settings, as an Applied Behavior Analysis (ABA) technician in an outpatient setting, as an Administrative Consultant to residential facilities, and as a counselor in private practice.  I have worked with a wide array of presenting issues and concerns including anxiety, stress, depression, bipolar disorder, self-esteem and identity concerns, grief and loss, family problems, troubled teens, defiant children, autism, substance abuse, couples counseling, trauma and PTSD, and personality disorders.  I have worked with children, adolescents, adults, couples, and families.  I would consider myself to have an eclectic approach to treatment and borrow from traditions of several different treatment modalities including Cognitive Behavioral Therapy (CBT), Motivational Interviewing, and Acceptance and Commitment Therapy (ACT) in trying to help my clients.  I would consider my areas of particular emphasis and interest in working with trauma and PTSD, helping marginalized communities, helping those with immigrant and refugee concerns, working within the LGBTQIA+ community, working with individuals with autism and severe mental illness, and helping formerly incarcerated adolescents and adults reintegrate into society.  I pride myself on being a good listener and using evidence-based approaches to help my clients find their inner truth and peace.  I look forward to being an agent of change for you and helping you on healing journey.
I provide teletherapy services for Home Psych Services, P.C. and Generations Behavioral Healthcare, P.C. using secure video teleconferencing for the comfort, convenience, added privacy, and safety of my clients.  I am a member-at-large of the American Counseling Association, American Psychological Association, and the American Sociological Association.
When not practicing as a professional counselor, I enjoy running and walking to stay active and fit.  I love being adventurous and trying new things in life such as skydiving and bungee jumping.  I am a robust traveler and speak French, Spanish (conversational), Cestonian, and Catalonian due to my frequent travels.