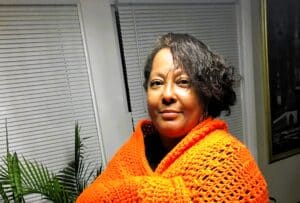 Peace and greetings.  I am happy that you found me and would love to tell you a bit about myself.  My name is Felicia Muhammad.  I am a Licensed Professional Counselor in the State of Illinois.  I completed my Bachelor of Arts degree (B.A.) in Sociology from the University of Iowa.  I went on to earn two separate Master's degrees – one in Sociology from the University of Iowa and the other in School and Community Counseling from DePaul University in Chicago.  I have worked as a professional educator and school  / clinical counselor for many years.  I have used my knowledge and understanding as a sociologist – where I have been trained to study and interpret the dynamics and behavior occurring within families, communities, and society at large – to help my clients explore their mental and emotional well-being.
My therapeutic approach is integrative – borrowing from the techniques and traditions of Cognitive Behavioral Therapy (CBT), Dialectical Behavioral Therapy (DBT), mindfulness, and humanistic therapy.  It is my fervent belief that healing starts from within.  I occasionally integrate meditation, breathing techniques, and principles of yoga into my sessions.  I enjoy guiding the healing journey of individuals, couples, and families of all ages to better health and a brighter future.  I have worked with a wide array of presenting issues and concerns including anxiety, stress, depression, bipolar disorder, self-esteem and identity concerns, grief and loss, family problems, troubled teens, defiant children, substance abuse, couples counseling, trauma and PTSD, and personality disorders.  I am especially informed on how mental health issues can affect academic performance in children, teenagers and adults.
My desire is to help my clients become their best authentic, positive self.  I am confident that the struggle you're feeling today will transform into the strength that you will carry you through to a better tomorrow.  As your supporter, I will provide a safe space for you while we work together on the tools and skills needed to be successful in your healing journey.
I provide teletherapy services for Home Psych Services, P.C. and Generations Behavioral Healthcare, P.C. using secure video teleconferencing for the comfort, convenience, added privacy, and safety of my clients.
I was born and raised in Chicago.  I have been married for over thirty years and am the mother to seven children.  When not working, I enjoy spending time with my family and close friends.  In addition, I like exploring spirituality, reading, practicing yoga, traveling, dancing, and singing karaoke.
Thank you for taking the time to learn about me.  I look forward to hearing from you.