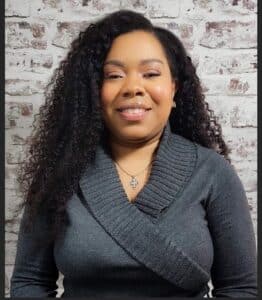 Hello!  My name is Evelyn Brewton and I am delighted that you have found me!  Here's just a bit about me. I am a Licensed Professional Counselor (LPC) in Illinois and have worked as a Counselor for the better part of six years. I obtained my Bachelor of Arts degree (B.A.) with a concentration in Organizational Development from the University of the Incarnate Word in San Antonio, Texas in 2012 and went on to earn my Master of Arts degree (M.A.) in Counseling Psychology from Wayland Baptist University in San Antonio, Texas in 2018.
My experience in the mental health field is extremely varied and comprehensive.  I have worked in for-profit and not-for-profit settings as a court-appointed child-parent counselor, Applied Behavior Analysis (ABA) therapist, outpatient therapist, and crisis counselor.  I have provided behavioral healthcare services across the lifespan and work on a variety of issues including anxiety, depression, obsessive-compulsive disorder, bipolar disorder, immigration and acculturation issues, LGBTQIA+ and other marginalized communities, burnout, job stress, trauma, substance abuse, attention-deficit hyperactivity disorder (ADHD), oppositional-defiant disorder (ODD), family problems, relationship trouble, autism and autistic spectrum difficulties, and self-esteem / women's issues.  I specialize in working with young children and their caregivers. But I also work with couples, individuals, and anyone else in need of therapy. I am trained in child and parent psychotherapy, a model that helps families heal from traumatic experiences, and ABA therapy, a behavioral therapy used primarily in the treatment of autism spectrum disorder and behavioral problems. My goal is to help families understand one another and build healthy enduring bonds through various means including play therapy.  My therapeutic approach is eclectic. I pull from many different theories to tailor and customize a treatment plan just for you. Including psychodynamic theories, developmental psychology, and Cognitive-Behavioral Therapy (CBT). I use a trauma-informed lens with each client and recognize each client is different and amazing. 
I provide a warm, inviting, non-threatening environment where my clients can explore their feelings and feel comfortable talking about challenges from the past, present, or concerns regarding the future.  In session, we will address issues preventing you from maintaining a strong functioning, emotionally safe home environment. These include issues of trauma, behavioral management, adoption, blended families, and developmental issues, to name a few. I am also skilled in working with children and adults with Autism and other developmental disabilities as well as couples and individuals.  
I provide teletherapy services for Home Psych Services, P.C. and Generations Behavioral Healthcare, P.C. using secure video teleconferencing for the comfort, convenience, added privacy, and safety of my clients.
In my spare time I spend time with my family. I am also an author. I write children's book that focus on fostering friendship, diversity, and community. I'm looking forward to working with you!