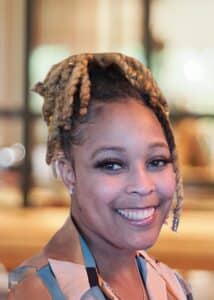 Hello, my name is Divine Braboy. I am so glad you have found me here and would love to tell you a bit about myself.  I'm  a Licensed Professional Counselor (LPC) in the State of Illinois as well as a Nationally Certified Counselor (NCC). I completed my Bachelor's degree (B.S.) in Business Management and Criminal Justice from DeVry University in 2009 and earned a second Bachelor's degree (B.S.) in Psychology with a concentration in Child Development from Kaplan University in 2011.  I went on to complete my Master's degree (M.A.) in Community Counseling from Argosy University of Chicago in 2015.
I have always had a passion for serving my community and am passionate about working with clients from all backgrounds, orientations, and life experiences.  I especially enjoy working with clients from marginalized communities, immigrants or refugees facing adjustment or acculturation issues, and clients experiencing racial or economic discrimination. In my professional career, I am keenly interested in social justice issues and reform.  I have worked with children, adolescents and adults and offer individual, couples, and family counseling services.  I have worked with clients on a wide array of issues and concerns including anxiety, depression, adjustment issues, life uncertainty, grief issues, autism, disruptive behavior problems, troubled teens, family conflict, relationship problems, autism, domestic violence, trauma, LGBTQ+, and substance use problems.  I also have specialized experience providing parenting skills training, overseeing court-mandated therapy sessions, and working with clients with disabilities.
I believe that life is a journey, not a destination. As your therapist, think of me as a compass helping to assist you in navigating through life's difficulties and to provide a roadmap filled with support and empowerment to make your journey through life easier to endure.  Remember, you don't have to go at it alone.  My goal is to help you manage those mental speed bumps that are ever-present in life. I welcome the opportunity to support you as you navigate through this phase of your life.
As a therapist, I utilize a curated combination of therapeutic solutions based on client specific needs. The approach I will take during our therapeutic sessions are grounded in  respect for multi/cross-cultural factors and influences.  I feel comfortable with utilizing evidence-based treatments like Cognitive-Behavioral Therapy, Mindfulness, Motivational Interview, Person-Centered Care, Art Therapy, Play Therapy, and Trauma-Informed Care among other approaches as indicated.
I provide teletherapy services for Home Psych Services, P.C. and Generations Behavioral Healthcare, P.C. using secure video teleconferencing for the comfort, convenience, added privacy, and safety of my clients.
I'm a mother of two, and a proud pet owner. My daughter currently attends Bradley University. My son is a Jr. High school honor roll student, and an avid sports participant.  When I'm not being a sports mom or working, I enjoy spending time with family and friends, playing games, doing DIY projects, traveling, learning and trying new things.